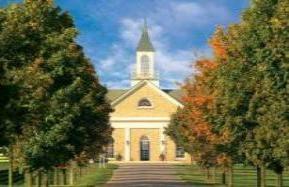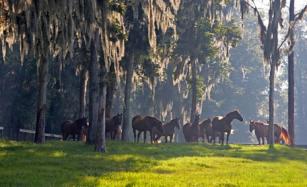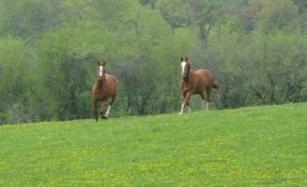 Adena Springs is owned by the Stronach Family. There are three farms located in Florida, Kentucky and Aurora. The retirement program is based at the Adena Springs North farm in Aurora, Ontario. The farm consists of a half-mile indoor training track, one-mile dirt track and a seven-furlong turf course, 4 barns and a state of the art indoor arena and training facility. Horses that are not suitable for adoption are retired permanently in house at the Florida location.
With over 250 horses in training the Stronach family and Adena Springs has developed a thoroughbred retirement program to ensure a healthy safe retirement of their horses. When their racing career comes to a close each horse is carefully evaluated for any necessary medical care or rehabilitation, and then started on a retraining program that includes not only riding but turnout, ground work and relaxation. This is accomplished with a full time in house professional staff of trainers, riders, grooms and veterinarians.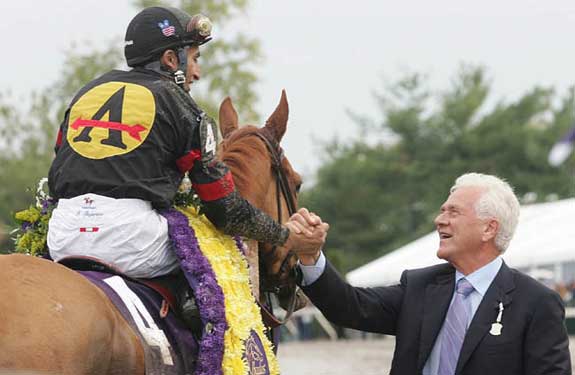 Currently over 100 horses have found new homes. The aim is to match horses with owners who will provide a suitable lifelong adoptive home ensuring a comfortable happy retirement. To ensure the horses are going to the right home we provide new owners with full disclosure of each horse's health history and current status of their retraining
A long time supporter of thoroughbred retirement programs including Long Run and the Thoroughbred Retirement Foundation, Adena Springs and the Stronach family believe in the rehabilitation and retraining of former racehorses. Adena Springs has sponsored thoroughbred only classes at Central Ontario A circuit shows and will also be sponsoring the Trillium circuit.
The Stronach family's commitment to first-class racing comes from a more elemental source – that is, a simple commitment to the horse. This commitment extends to quality bloodlines, quality racetrack performance and quality conditions for breeding, raising and training the horse and finding suitable retirement when their racing career is over. It is the drive to excel in every aspect of horsemanship that Frank refers to as a "labor of love, my passion."
The late El Prado was Champion Sire in North America in 2002 and ranked #2 the following two seasons. His line is being carried on by his exceptional young sons Medaglia d'Oro and Kitten's Joy.
Awesome Again carried the Adena Springs colors to victory in a historic renewal of the Breeders' Cup Classic (G1) in 1998. He has gone on to be a prolific sire of top class runners, siring 11 Grade 1 winners, including four Breeders' Cup Champions. Noted Thoroughbred Times editor John Sparkman said of Awesome Again: "...it is the sheer brilliance of his best offspring that ranks (Awesome Again) among the most important and successful contemporary stallions."
Awesome Again's best runner, and one of Stronach Stables best, brilliant Horse of the Year Ghostzapper, stands alongside his sire and is emerging as an important stallion in his own right. He was the #1 sales sire of his stallion crop for three consecutive years and is the clear leader of his crop with an Oppenheim 'ABC Index' of 2.48.
Macho Uno is another Breeders' Cup winner campaigned under the Adena Springs black, red and gold and he too has become as a top class sire. He was the #5 first crop sire in 2007 and has sired such exceptional runners as the Grade 1-winning millionaire Macho Again and G2 winner and Kentucky Derby (G1) third-place finisher Mucho Macho Man.
Adena Springs has sought to offer North American breeders stallions from best bloodlines not only on this continent but from around the world. El Prado, for example, was bred in Ireland and raced in Europe. Adena's current roster includes Silent Name, a multiple graded-winning son of the immortal Sunday Silence, and Danehill's only Epsom Derby winner in North Light, who has sired a winner of the St. Leger S. (G1), the world's oldest Classic race. The Brazillian-bred Einstein was a five-time Grade 1 winner in North America and we are excited about his first crop of foals, born in 2011.
Adena stallions now stand in Kentucky, Ontario, Canada, California and New York. The Canadian roster includes two-time Santa Anita H. (G1) winner Milwaukee Brew, Champion Sire in Canada in 2009. Among the Adena stallions standing at McMahon Thoroughbreds in New York are Alphabet Soup, the first Breeders' Cup Classic (G1) winner to stand in the Empire State, and Belmont Stakes (G1) winner Touch Gold, the sire of four Grade 1 winners.
The goal of the Adena Springs Retirement program is simple - Match horses with loving owners who will make a lifelong commitment to their health and well being.
The Adena Springs Retirement program was created in 2004 and was the first in-house retirement program within the industry. The Adena commitment to our horses lasts beyond their racing years, and we are dedicated to providing them with a lifetime of care and happiness.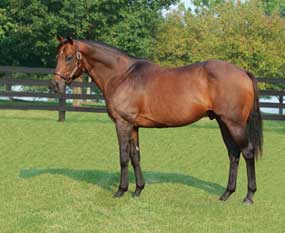 Each horse is unique and we strive to find suitable homes for each and every one of them. The thoroughbred is a versatile athletic breed that can be successful in almost any discipline be it racing, hunter, jumper, dressage, eventing, western or pleasure. All of our horses with time, patience and re-training become loving and gentle companions eager to please.
Thank you for your interest in our program. Most of all, thank you for sharing our passion for the Thoroughbreds. Please call us to arrange a personal visit, or contact us with any questions you may have about becoming part of the Adena Retirement Program.